I try not to rant so much lest I prove my daughter right that I have so much drama going on. But after going through much of an emotional roller coaster the past few weeks I think I have better appreciation of the good things that life is about.
Rave# 1

I decided to open a Chase account late last year, a little before the winter started to bite. See, in carless Manhattan, an ATM machine that is a block away feels like it is a mile in distance when the weather is bitterly freezing or when slippery and slushy snow is littered all over. A lot of my friends have tried to discouraged me but I thought I'd lose nothing by moving even just my payroll account to another bank.
I have not regretted it. There is an ATM almost every other Manhattan block (not as easy outside of the NY area, I realized when I travelled to Phoenix though), I get safe online transactions, and the icing to my cake came tonight.
I had been getting recurring fees of $9.95 monthly which I couldn't explain but thought would be the usual bank charges. Since I had extra time tonight when working on balancing my accounts (never balances but I keep trying anyway) I decided to call customer service and ask what it was about.
I talked to a very nice man who kept apologizing to me as he looked through my account and tried to see how far back the fee charges had been made. He explained to me that this fee was for those who used MS Money or Quickbooks or any other banking software. When I told him I wouldn't entrust Bill Gates with my banking info, he quickly worked on crediting back to me $59.70 worth of charges dating as far back as January 2006.
He laughed when I joked that it felt like I had just won the lottery! I thanked him profusely and then said goodbye after greeting him 'Merry Christmas'. He was definitely laughing.
Rave #2

Summer has finally arrived in New York when the weekend weather topped the mercury at 93 degrees on Sunday. On Saturday my Brazilian mafia met up on the upper west side and we had a barbeque while watching the World Cup game between Italy and the US.
While everyone cheered for the US of course I was cheering my home team: Italy. It ended in a tie but it was one great game! Since the Yankees had really been playing a little less than Little League baseball lately, my focus had been on the games in Germany. And my true colors are showing: green, white and red! Viva Italia!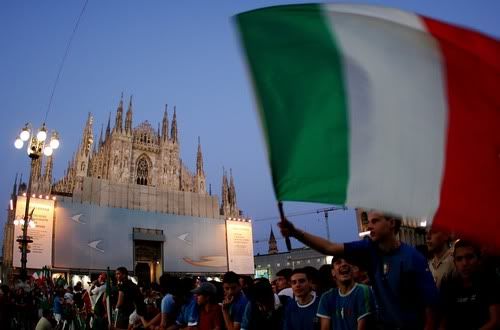 Rave #3
School has started in the Philippines. I found out last week that Gabbie has started attending her classes. Her mom says she enjoys it, jumps around with the kids and I feel bad missing this milestone. Suddenly I can't wait to get home in September when we will celebrate her 5th birthday and Liam's 2nd.
Rave #4
Things really got rough last week for me when my daughter had to go through an emergency surgery last Tuesday. I never really thought that I was too far being here in New York while the rest of my family are in the Philippines. I knew I could fly out anytime and there are numerous flights that leave for Manila - via Hong Kong, Singapore, Japan, Korea or anywhere else that can connect to my destination.
On Sunday when I was desperately trying to be out of New York in time to be by her bedside on Tuesday night, it was hopeless. The best flight my very able agent could get me was to leave Thursday and arrive Fiday night (he later found one for me to arrive Wednesday night).
In the end it was decided that I didn't need to travel. Francis had put together the best surgical team to work on Nicole and he supervised it so that she had the teeny tiniest of a scar. My sister Gigi was fortunately home for a visit and so she was Nicole's 'mom' for the occassion. Besides, I was such an emotional mess I would have been an added liability. And of course, my parents who doted on Nicole like she was their own daughter. Actually, way too much that she feels smothered as well even when I wasn't around.
Nicole is recovering quite well. She'll be back to school tomorrow, Wednesday, after being out of commission for a week and a half. I am totally in awe of this girl who continues to amaze me because while everyone of us had broken down with the stress and fear, she held herself strongest among us and was even was our source of comfort - assuring us that everything would be alright.
Thanks to those who put in their prayers: Vicky for the masses she offered in Manila, to John Moran for the special prayer session he held soon as I called to ask him for spiritual support. And the many others who kept me sane when it seemed almost impossible: Remy, Jiji, Wally, Renee, Joanna, Noel, Judith, others at work who are also my family in NY, Marco and most of all, my M.O. who tried to find me flights that would connect trans-Atlantic when trans-Pacific became impossible.
I learned

: when the rains come pouring, you just need to hang on a bit to realize that the sun will come out eventually from behind the grey clouds.
Here comes the sun...I'm hanging on.