I FINALLY GOT IT!
After almost 5 years living in the United States I finally got wind of the meaning of Thanksgiving. It is not the turkey nor the gravy nor is the meaning to be found in the rest of the buffet feast on the dinner table. Thanksgiving is a pause in the calendar to look back to what we value in life - and for me, it is family.
So this year, like the rest of humanity in the continental United States, on the weekend before Thanksgiving, after two years of so many hits-and-miss, my family had finally got together.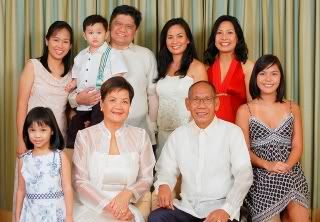 Mi Famille
Truly, blood is thicker than water. I look at the youngest members of our brood (my daughter and Francis' two toddlers) and hope that many years from now, the bond and love that we had hopefully instilled and develop in them will survive and that they will continue to be a welcome part of each other's lives.
Give gratitude for lives that are charmed - that constantly seem to find good fortune even when the odds are against us, gratitude for good health that sometimes we take for granted, gratitude that we agree with other more often than we disagree (we are a boring bunch) and that even when we do disagree we continue to respect and love each other, gratitude that we have parents who helped shape us to be what we are. There is so much really to give thanksgiving for.
And to think, we didn't even take any land fromt he Indians! (hehehe...)
Happy Thanksgiving, all!