Manhattan, NY
: I have lived here in my apartment since February 2003. It is my first apartment. It is also the first time I had my name in a lease here in the
US
. It also happens to be the smallest, tiniest space I have ever called my residence but somehow with good humor, I have learned to love it and seems will continue to call it home for another year.
Home is a studio on a 3
rd
floor walk-up. It was gut-renovated and so when I got it everything was new. It has hardwood floors, a full kitchen – stove/oven, full sized two-door ref and a full sink. It is not your typical
New York
apartment, often basically installed with a mini bar ref and a bar sink. When I first saw the apartment with my friends Karen and Gerry, I fell in love with it.
It is quite spacious for a Manhattan studio, about 500 square feet with 10 feet high ceilings and two tall windows facing the east that welcomes the sunrise. I have a view of the park across the avenue which livens up with activity during the summer weekends and the windows have a wide ledge where I can sit. I have access to a fire escape that could function as a small balcony if not for the fact that I have an absurb fear of heights. It has laundry facilities at the basement which means I don't have to step out in the winter to do a much dreaded chore.
When I first moved in I had a roommate. Moving in day, we cabbed from my aunt's apartment with only luggage and two inflatable beds. And so the first purchase had been two single beds then a 13" TV. Then she moved out and then the starter furniture gave way to real ones including a real full size bed. Since last year I've started disposing many things to make way for more space. Much as I do not really buy much, I still discover that I still accumulate a lot of stuff.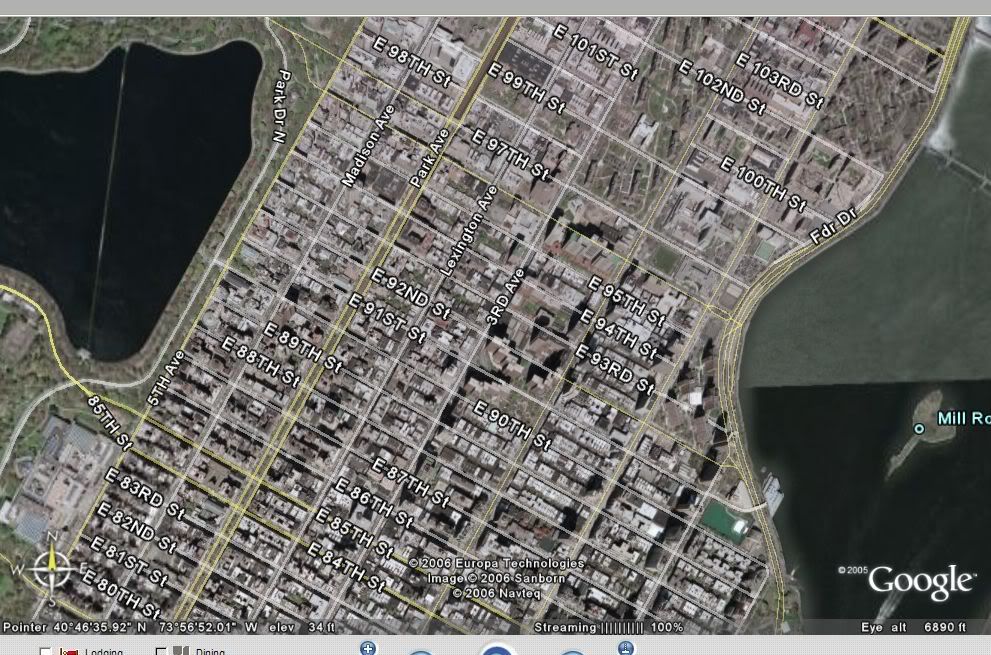 My neighboorhood - the Upper East Side/East Harlem area
It is three blocks away from the subway and the bus stop is right across the street. Everything is within walking distance – the cinemas, the shops, restaurants, bars, supermarkets (that deliver so I don't have to carry the heavy bags up the stairs), the library. The thing I love about its location the most is that I am three blocks away from the promenade of the East River and four blocks away from Central Park.
I have invested many memories here. If these walls could talk, they'd share with you the joys, fears, frustrations and tears I had gone through adjusting to my new life away from my family and just really growing up and being on my own.
Since the onset of the year I had been contemplating about not renewing my lease, perhaps moving to another location. My boyfriend and I searched for apartments for a while – not just in Manhattan but in Brooklyn as well. I had hoped that the rent I paid for my crib could have an equivalent outside of the city but with bigger space, hopefully a one bedroom. There were some that were 'interesting' prospects but in the end, my faint heart couldn't comprehend life outside of Manhattan. I had been assured that many people have moved out of the city and have survived. But I didn't think I could be brave enough. And around Manhattan, the studios that were of the same price range as mine were old, rundown with musty smelly lobbies.
My lease renewal arrived tonight. A few days ago my landlord called to apologize that he would have to ask for an rent increase since he had locked my rent for the same amount since I had moved in. My friends freak out when I tell them that now I have to pay an extra $33 after my lease renewal. I shrug and acknowledge my gratitude for 'rent control' and whoever invented it. Nowhere in Manhattan can you find an apartment like mine for the amount I pay, despite the increase.
I signed on the dotted line.